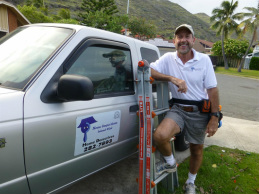 Aloha, my name is Gary Hawley, and I look forward to the opportunity of serving you. You are making a very large investment in real estate, and it is my goal to give you all the information you need to make sound decisions in the purchase of that home.
I started Home Detectives LLC 15 years ago, and since that time, I have inspected residential properties of all types throughout the island of Oahu and on the outer islands. The majority of my business provides complete home inspections for clients that are buying single and multifamily homes, townhouses, duplexes, and condominiums. Inspected properties have varied from modest condos of just a few hundred square feet to elaborate houses in the 10,000+ square foot range. My Electrical Engineering degree and employment as a QA Inspector, along with my 40 years of experience here in Hawaii in home construction and repair, has given me the tools to give you a complete and informative home inspection.
WHAT I DO THAT SOME OTHER INSPECTORS DO NOT:
Walk the roof - unless it is a roof not designed to be walked on such as Monier tiles
Crawl/walk the attic
Crawl under the house - if there is enough room and an entry point
Inspect every electrical outlet and switch - when visible and within reach - not just a representative number
Inspect the plumbing and valves under every sink and for every toilet
Inspect all the windows and doors - not just a representative number
Operate all appliances that are present - including the washer and dryer
Operate any hot tubs or spas
Report on the condition of pools and pool equipment
Include photos with complete, understandable explanations of the problems found
Finish and email the inspection report within 24 hours - usually the same day
MY COMPANY PHILOSOPHY:
Objectivity: I am completely independent. You can be confident that I will always provide an unbiased and straightforward home inspection for you, my client. I rely on a good reputation in the industry and referrals from clients, associates and realtors for the majority of my business.
Thoroughness: I will spend all the time needed to provide a comprehensive inspection and related inspection report that will be available for you. The inspection time for most homes ranges between 2 - 4 hours, and reports are generated and sent to the client within a 24-hour period after the inspection.
Detailed reporting: It is you that benefits from knowing about the real property condition; therefore, my intent is to present my inspection findings in a comprehensive report describing the conditions of the home and also providing photographic evidence of apparent defects and deficiencies. This report is generated by a well-known inspection program called Homegauge and emailed to you either the same day or the day after the inspection.
Continuing education: Although most of the knowledge I have gained has been through many years of experience in the industry, I have also obtained multiple inspection-related certifications and completed many hours of continuing education every year. I am currently a member in good standing of InterNACHI.
---